Carillon Senior Living Blog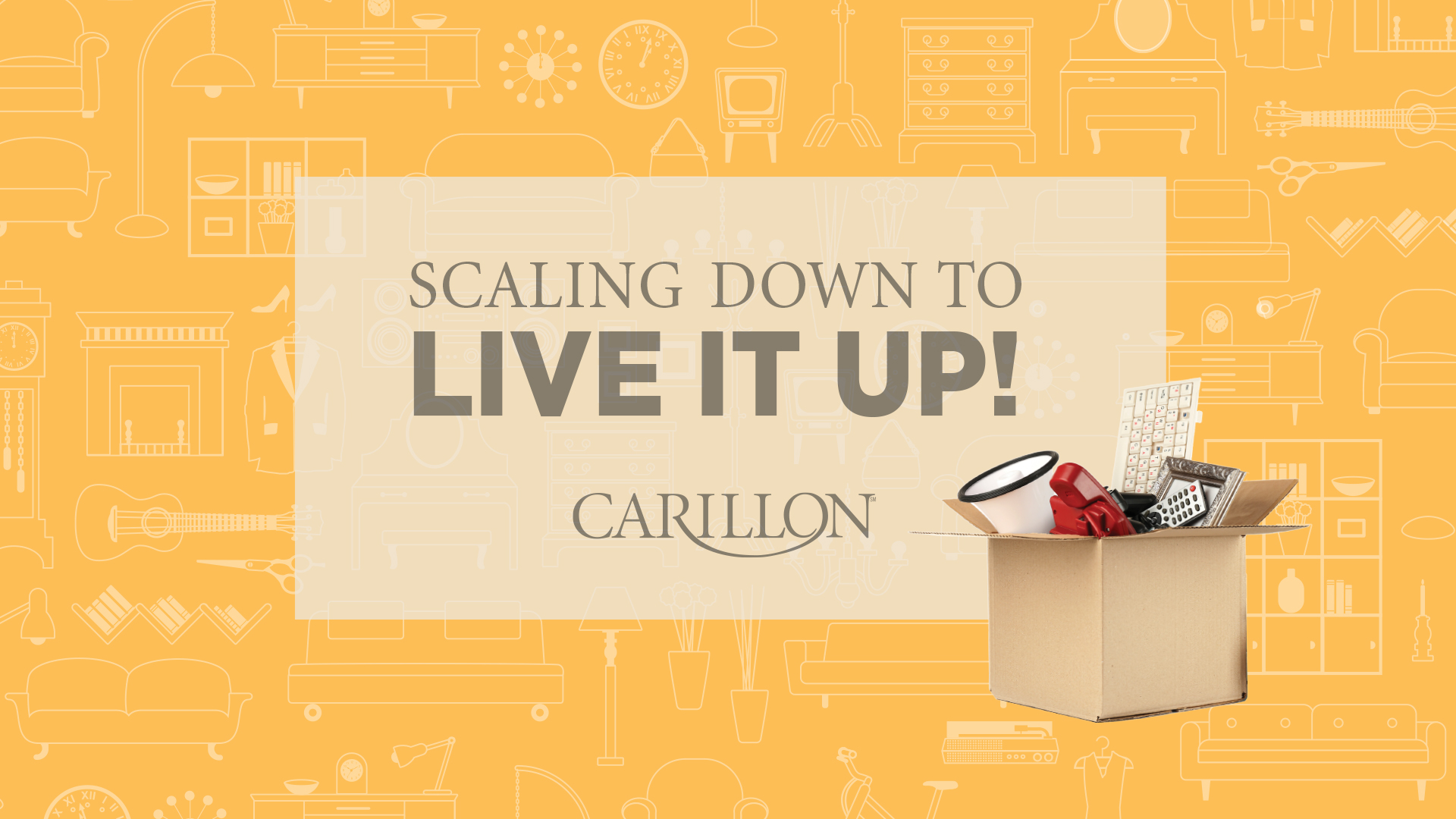 "Scaling Down to LIVE IT UP!"
Downsizing consultants estimate that we don't use 80 percent of what we own, yet many of us find it difficult to let go of our unused items.
Steve Hughett, owner of Caring Transitions, recently spoke at Carillon to demonstrate the benefits of ridding your life of unneeded belongings. In his presentation, "Scaling Down to LIVE IT UP!" he answered questions such as: What's important to keep? What happens with the rest? And, is it time to get rid of this spatula?
The idea of downsizing can trigger stress and anxiety for many, Hughett breaks down the steps into logical, manageable and actionable blocks. The following is a brief overview.
"Downsizing" = "right-sizing"
Ask yourself: What is the right size for your life right now? Do you need all the stuff you have? If you're right-sizing to ensure a better long-term situation, then frame the move as positive by focusing on the good that will come from it. Right-sizing is simply a means to an overall better lifestyle.
Space-planning
If you're moving into a home that's half the size of your current one, plan to take about half of your belongings. Knowing what to take and what to leave behind is essential. Yard tools? You won't need them at Carillon! Other items to leave behind are outdoor furniture, outdated clothing and electronics, and nonessential furniture, decorations and kitchen items. Things to keep are about two weeks' worth of clothing to mix and match, some favorite décor, basic furniture and kitchen items, electronics, current medication, and select memorabilia.
How to start
Start with the smallest rooms in your home, or go counterclockwise through your home, room by room, for no more than two hours at a time to prevent exhaustion. Identify the "must haves" in each room by placing a green dot sticker on larger items such as furniture, and grouping smaller items and papers in a single area. For items you're not taking, use designated colored stickers to categorize them as items to be donated, sold or thrown out.
Don't do it alone
Invite a friend, family member or professional to help you—someone who will be ruthless! And remember, appropriate planning makes for a smoother, more successful transition.
About Caring Transitions
Caring Transitions is an independently owned Lubbock company of the nation's largest and most trusted network of certified relocation and transition specialists for seniors. Their goal is to remove the stress associated with downsizing and relocating.
A special offer for you!
Every journey starts with a single step, and when you sign up with Caring Transitions before November 1, you'll receive a $500 voucher toward their services! Contact Steve at 806-680-2610 or SHughett@CaringTransitions.com for more information.