Carillon Senior Living Blog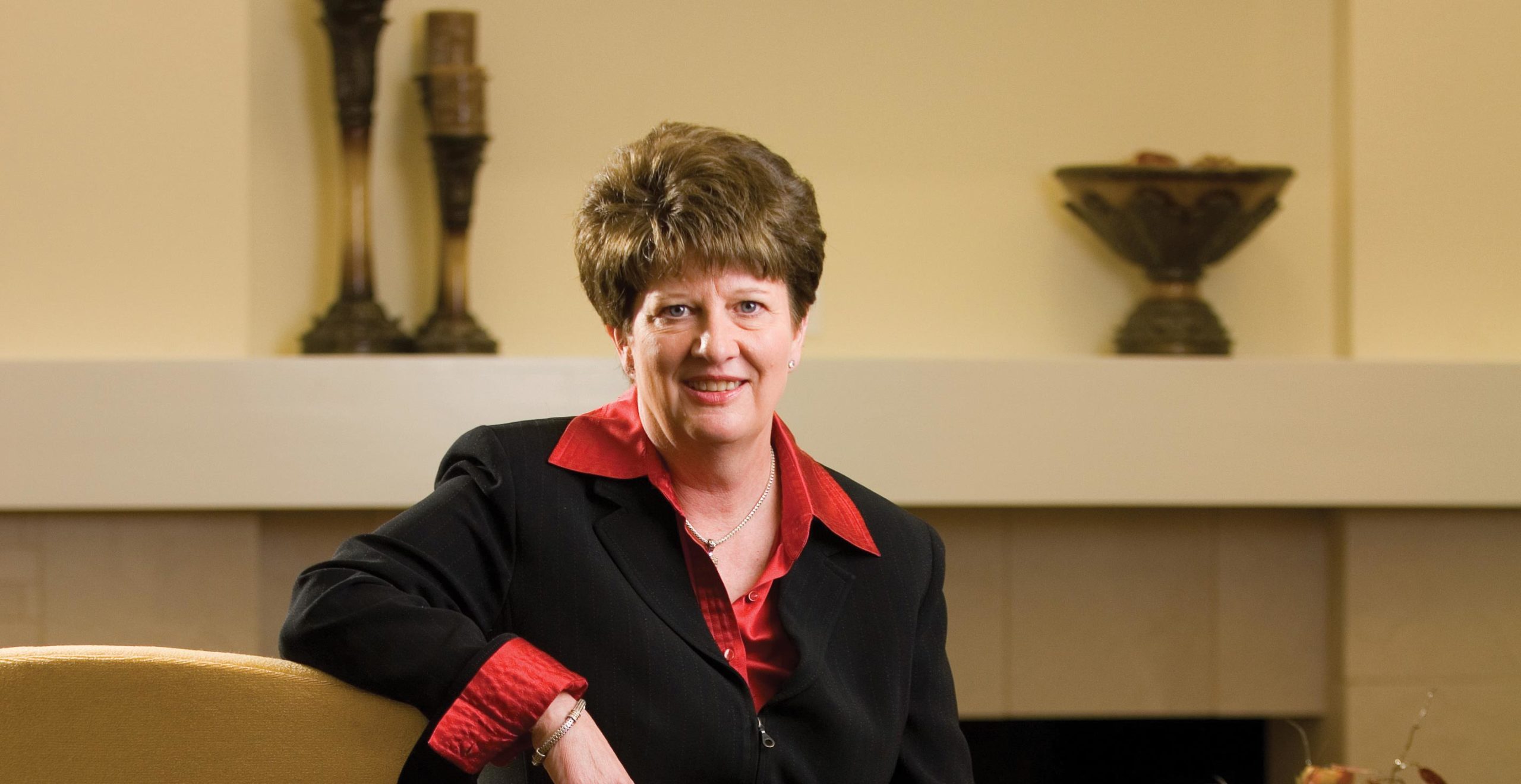 From Courtside to Lubbock's Pride
This article was originally published in the winter 2017 issue of Lubbock's Senior Link magazine and can be found online here.
From Courtside To Lubbock's Pride
By Lindsay Grannan
Like most West Texans, I learned the name Marsha Sharp at an early age. I fell in love with basketball while watching the Lady Raiders triumph at the 1993 NCAA Tournament. Mesmerized and only nine years old, I dreamed of someday becoming a Lady Raider. In 1995, my mom and dad sent me to Texas Tech for basketball camp, prized "Air Swoopes" shoes packed carefully in my bag. For the next few days and with fellow campers, I met and learned from the greats—Alicia Thompson, Rene Hanebutt, Crystal Boles and none other than Coach Marsha Sharp.
Our next meeting was in 2000 when Coach Sharp attended a girls' basketball practice at Hale Center High School on a recruiting visit for future Lady Raider Jametra Clark. At point guard, I was so nervous about Coach Sharp's presence that instead of passing the ball to Jametra at the post, I threw it clear over the backboard and into the cinder-block wall, a good 5 feet or so past the baseline. Suffice to say, I myself did not become a Lady Raider.
Still, my respect for Coach Sharp and admiration of the Lady Raiders and Texas Tech only grew with age. Today, Marsha and I sit in the same room once a month for Carillon LifeCare Community's board meeting. My nerves have since calmed, but to say it's an honor seems inadequate.
Marsha Sharp was born on Whidbey Island, Washington State, located about 30 miles North of Seattle, where her father Charles served at Naval Air Station Whidbey Island. The family (mother Mary Dell, brother Charles David, and sister Pam) moved to parts of New Mexico and Texas before relocating to Tulia, Texas, one of the few towns in the area with a girls' basketball program, just in time for Marsha's seventh-grade year. Under the leadership of Coach Bud Roberts, Marsha learned to live and love basketball, developing fundamentals, work ethic, and teamwork.
She attended college at Wayland Baptist University in Plainview, Texas, where she played one year with the Freshmen before coaching the same team as a Junior. While earning her Master's in Education at West Texas State (now West Texas A&M), Marsha drove back and forth between Canyon and Plainview, to take classes in the mornings and coach in the afternoons. Then, she coached the Lockney Longhorns for six years before accepting a position as an assistant coach at Texas Tech in 1981. The following year, her courtside reign began. During the next 24 years, Coach Sharp would grow the Lady Raider program into one of the most admired and respected in the country.
Marsha retired at the end of the 2005-2006 season and accepted a role as Associate Athletics Director for Special Projects, focusing her efforts on developing Texas Tech's student-athletes both on and off the court. Over the last ten years, she has served more national and local organizations than is possible to list here. A select few include the Kay Yow Cancer Fund/Play4Kay, the Talkington Leadership Academy, Women's Protective Services, the Women's Basketball Coaches Association, the American Cancer Society's Coaches vs. Cancer Advisory Board, and the Lubbock's Young Women's Christian Association. In the philanthropy industry, it's common to hear a request for one's time, talent or treasure. But it's not nearly as common for one to give all three, or at least as often as does Marsha Sharp.
TIME
In 2004, Marsha and sister-in-law Emily Sharp co-authored Tall Enough To Coach: Elements of Leadership of Coaching and Life. The book features an intermittent collection of photos; my personal favorites include a set taken of Marsha's appointment calendar. The first photo is of March 1993, the calendar sparsely updated with the basketball schedule and only one appointment. The second photo shows April 1993. In clean, all-caps handwriting, Marsha has only "FINAL 4" written on each day through April 4. By the end of the month, there are no less than 3-5 engagements per day: "AMBUCS," "LA VENTANA," "KLBK," and another personal favorite, "PANCAKES."
Today, it would be hard to find a local school, civic group or book club that Marsha hasn't visited as a guest speaker, and her calendar remains just as full in October 2017. That month, Marsha and I sat together at Carillon's board meeting, where she shared that she'd attended two speaking engagements on three consecutive days that week. We laughed that Carillon's retirees were right—it was possible to be busier in retirement than during your working years.
Marsha has given her time to Carillon for the last ten years, serving on the Board of Directors, and as a spokesperson for the retirement community, championing its LifeCare program, and I'm Still Here™ memory care program. Many residents now living at Carillon traveled with the team as Lady Raider "super fans," so it was a memorable event to shoot a commercial with Marsha "coaching" a team of residents acting as basketball players. The relationship with Carillon also gives Marsha the opportunity to honor the memory of her father Charles and coaching colleague Pat Summit, both of whom battled Alzheimer's disease.
TALENT
Marsha often said recruiting talented, teachable players was one of the most important aspects of winning games and building success on the court. In 2007, she met Chase Stane, a young man with a learning disorder, told he would never read or be on grade level because he was "unteachable."
Chase's mom Lisa Stane recruited fellow mom Tracy Weatherly, whose son Alex also had a learning condition. They traveled to Dallas and explored schools designed to teach students with dyslexia and attention-deficit/hyperactivity disorder (ADHD). In the fall of 2009, the determined mothers opened a similar private school in Lubbock, just in time for Chase's and Alex's seventh-grade year. And since Marsha knew a thing or two about being "teachable," the boys decided to name the school in her honor—Sharp Academy.
This not-for-profit, Christian-based school features classes limited to six to eight students, allowing teachers to provide one-on-one instruction tailored to a child's specific learning needs. Chase and Alex graduated in May 2015 with three other seniors, and all five were accepted into universities, cumulatively collecting over 90 credit hours and over $100,000 in scholarships.
Marsha serves as Advisory Board Chairperson, contributing a love and passion for educating Lubbock's youth, particularly the underserved population. In this role, she's still recruiting those who are talented and who in the right environment, become teachable.
TREASURE
Many a Lady Raider alum will tell you that Marsha cared about their successes on the court just as much as off. As testament, she can tell you where many of her players are today, what industry they work in, and which sports their children are playing. She was instrumental in guiding their athletic and professional lives. Coach Sharp felt Texas Tech could improve the off-court development of its student-athletes, so much that in 1998 she gifted $100,000 as the lead donation in a campaign to build such a center.
In 2004 the Marsha Sharp Center for Student-Athletes became a reality. It serves over 400 student-athletes as a center of support for achieving their academic goals and preparing for a post-collegiate life after sports. Accommodations include a computer lab, instructional classrooms, and private study and conference spaces for tutoring sessions. The Center also houses the Texas Tech Academic Hall of Fame, recognizing those athletes who excel in sports and academics.
Excel they do. In the 2016-2017 Texas Tech Academic Honors and Achievements Year in Review, 70 student-athletes were named to the President's List, 121 to the Dean's List, and 88 earned Academic All-Big 12 honors. Five sports (Men's Golf, Women's Basketball, Women's Cross-Country, Women's Golf, and Women's Tennis) boast a 100% graduate success rate. And while this is no doubt a team effort, Marsha's initial financial treasure paved the path.
What I love most about Marsha is regardless of the national recognition and numerous awards, she's still one of us—a good ol' West Texas gal with a heart for bumper cotton crops and Sunday morning church services. For championing the underserved in education, healthcare, and everything in between. And for tirelessly devoting her time, treasure and talents to the betterment of West Texas and the Lubbock community. It's safe to say, she's the treasure.
When my daughter Emily was about six months old, we ran into Coach Sharp at Market Street. At home later that night, my husband and I discussed the day's events, including my brief encounter with Marsha. I recapped my childhood memories of Coach Sharp and expressed my admiration for her dedication to Carillon and so many other worthy organizations. The next day, we went out and bought a goal and basketball for our 6-month old prodigy. Emily doesn't know it yet, but she'll be a Lady Raider someday. At the very least, one of their biggest fans. And no doubt, a Marsha Sharp fan, too.