Carillon Senior Living Blog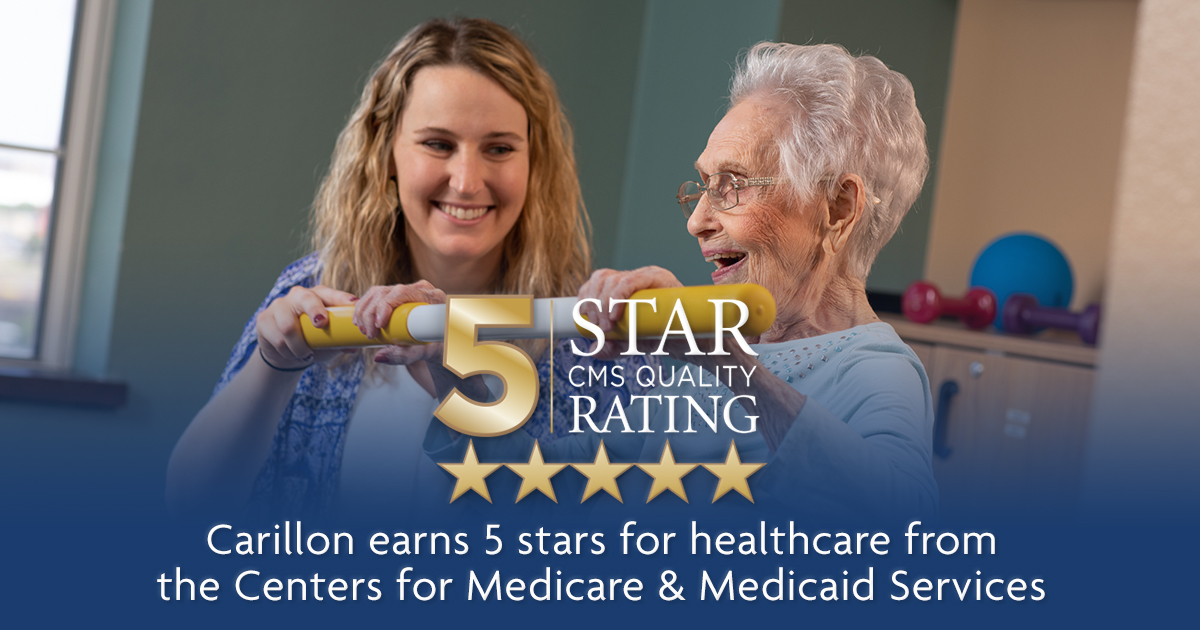 Carillon House Receives 5-star CMS Rating
Carillon House Receives 5-star CMS Rating
Rates Among Top 10% of Care Providers in Texas
Carillon Senior Living's health center, Carillon House, recently received the Centers for Medicare & Medicaid Services' highest rating — 5 stars, recognizing it as one of the top 10% health care providers in Texas.
"At Carillon, our culture of hospitality and exceptional care set us apart," said Pam Roddy, executive director of Carillon, a retirement community in Texas. "We're always reaching for excellence. Our 5-star rating proves the commitment of our staff, board of directors and residents all coming together to make this happen."
CMS ratings are based on specific criteria, including annual health inspections and ongoing staffing and quality of care. At Medicare.gov, families can see how Carillon House scored and what information CMS used to calculate its 5-star rating.
"The CMS ratings are an important tool for seniors and their families. The ratings offer a close look at the quality of care, staffing and annual inspections for health care providers," said Kate Perez, administrator of Carillon House. "It doesn't cover everything, but it's an excellent guide for comparing your options."
Carillon House's 5-star care is available to older adults who need accelerated rehabilitation, memory care and short-stay and long-term skilled nursing care. While care is open to everyone, Carillon Senior Living residents have priority access.
Advantages of Carillon's Life Plan
As the only LifeCare community in Lubbock and the surrounding West Texas area, Carillon Senior Living provides onsite health care as part of its Life Plan, which means you get exceptional value and peace of mind for today and tomorrow.
With Carillon's Life Plan, you have access to unlimited care for life, should you ever need it for as long as you need it. If your needs change, you can seamlessly transition between independent living and accelerated rehabilitation, assisted living, memory care, short-term skilled nursing care or long-term care — and all onsite. In short, you and your family won't have to worry about where and how you'll receive care — the answer is 5-star care right here at Carillon House from people you know and trust.
What's more, Carillon offers predictable costs with no surprises, making our Life Plan a smart financial decision. Should you ever need care, you know what you'll pay and when — your current monthly fee plus two extra meals per day and medical incidentals.
When it comes to care, one of the often overlooked advantages of moving to a LifeCare community is the ability for spouses to continue to live close together even as their needs change. Should you or your spouse need care in the future, Carillon's Pointe Plaza senior living apartments, for example, provide indoor access to Carillon House. That way, you're never far from each other, nor do you have to venture outside to visit. Read about these and other advantages for spouses in our blog How Life Plan Communities Can Help Couples Stay Together As They Age.
When you're ready to dive into more details about LifeCare, check out our blog on Understanding How LifeCare Can Protect Your Future. It provides information on the potential cost of future care, the benefits of a LifeCare community as well as the tax advantages of a Life Plan and more.
"Our 5-star rating means Carillon House is in the top 10% of health providers in Texas," said Perez. "We're proud of that fact. Our team works extremely hard to ensure residents receive the best possible care."
To learn more about Carillon House's 5-star care and how LifeCare offers a smart choice for your future, call us at (806) 696-8288 or fill out the contact form below to schedule a visit. We'll be happy to answer all of your questions.