Carillon Senior Living Blog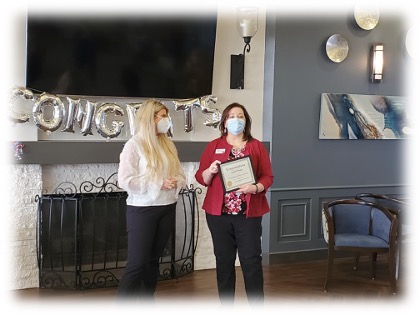 Pam Roddy Recognized With 2021 Excellence In Advocacy Award
Carillon's very own Pamela Roddy, Executive Director, received the 2021 Excellence In Advocacy Award! Pam will receive state recognition at the 2021 LeadingAge Texas Virtual Annual Conference & Solutions EXPO, May 25 & 26, 2021.
Summarize the key points of this award nomination:
Total advocacy for the Carillon community
Tirelessly working on the betterment of senior living
Complete leadership of her team during unprecedented events

What is this person's involvement or contributions?
Pam has put her heart and soul into getting all her residents vaccinated for Covid-19. Correspondence with key personnel, political and corporate, has been one of her main contributions to this campaign for getting the Covid-19 vaccine for everyone in her community. Countless phone calls to the supplier requesting vaccine for our independent living residents. Numerous written requests to government officials including; Texas Governor Abbot; Congressman Jodey Arrington; City of Lubbock Mayor Pope; Texas Health Department; City and County Health Departments.
For what achievement(s) is this individual being nominated?
Carillon LifeCare currently has an over 90% vaccination rate for all residents. Although Pam had been told we would just have to wait for our Independent Living residents to get vaccinated, she and her team dug in and found resources outside of Carillon suppliers for the independent residents and helped make appointments and furnish transportation to and from clinics all over the city. Forty percent received their first dose by the 12th of January. The skilled nursing and assisted living facilities in our community had vaccination clinics and Pam was able to funnel the rest of the independent living residents in line at those in-house clinics.
How does this person's efforts and accomplishments meet the specific criteria for this award?
Without Ms. Roddy's persistence, the independent residents at Carillon could still be searching for the vaccine. Now, there is a sense of relief and hope that no matter the situation, she is constantly and steadily on the move for all the residents in her community. Pam has the respect and confidence of the Carillon Board of Directors, leadership team, staff, and residents.
Nomination Category: Excellence in Advocacy
Nominee's Name: Pamela Roddy
Nominee's Professional Title: Executive Director
Nominee's Organization: LifeCare Services (LCS) Carillon LifeCare Community
How long has the Nominee worked at the current organization? 12 years
How long has the nominee been in their current position? 1 year 3 months
How long has the nominee worked in the aging care and services industry? 12 years